The new SAFE (Sexual Assault Forensic Evidence Kit) is now available. The standardized kit developed by crime laboratories in California, formerly called a "rape kit," went into production in September 2019 and is now available. It is consistent with the standard state Sexual Assault Forensic Medical Examination Report (Cal OES 2-923). Exam teams can order SAFE Kits for training examiners.
Penal Code Section 13823.14 authored by Assemblyman Jim Cooper, effective January 2018, directed the California Clinical Forensic Medical Training Center (CCFMTC) to work collaboratively with the California Crime Laboratory Directors Association (CACLD) and California Criminalists Association (CAC) to develop a standardized evidence kit for use in California. The SAFE Kit is used by sexual assault forensic medical examiners to collect, package, and label evidence identified during an exam, and includes both blood/alcohol toxicology and urine/alcohol toxicology kits. The SAFE Kit is submitted by the examination teams to their local crime laboratory. It was a two-year development process to gain consensus.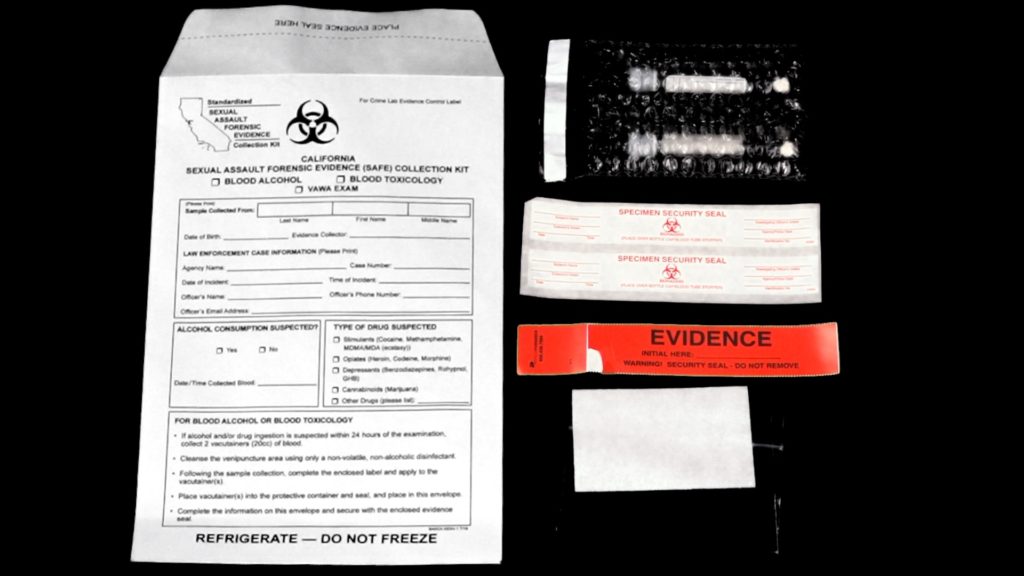 Penal Code Section 13823.14 directed the Department of Justice's Bureau of Forensic Services, the California Association of Crime Laboratory Directors, and the California Association of Criminalists to provide leadership and work collaboratively to develop a standardized sexual assault forensic medical evidence kit for use by all California jurisdictions. CLICK HERE for details and photos of the new SAFE Kit components.
Penal Code 680 effective January 1, 2020 requires law enforcement agencies to submit the SAFE Kit within 20 days after being booked into evidence to the crime laboratory. This bill (SB 22), introduced by State Senator Connie Leyva, requires crime laboratories to process SAFE kits, create DNA profiles when able, and upload qualifying DNA profiles into CODIS as soon as practically possible, but no later than 120 days after initially receiving the evidence.